White Island is an active volcano rising 1600 metres from the floor of the South Pacific Ocean and standing on it is an eerie contact with raw nature.  There are no grasses, no insects, no birds, no trees – just a sere island of multicoloured rocks with an occasional jet of steam releasing pressure from the volcano beneath.  You may hear gannets nesting on an outer slope, but it only emphasises the starkness of the rocky bowl.   Tours by boat or helicopter take passengers 48 kilometres over the Bay of Plenty to this steaming rock in the ocean. 
You must watch your step over the natural rock as, apart from the landing wharf, there are no modifications for human comfort.   The tour guide hands out gas masks for the approach to the core of the crater where yellow-green, sulphurous water exhales fatal fumes.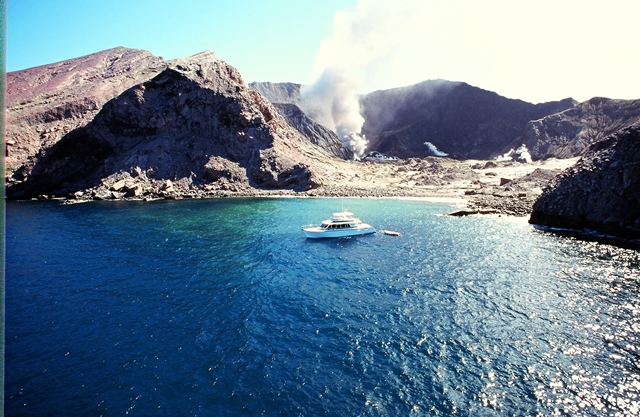 Corroding machinery and twisted iron bars at one end of the island show where a sulphur mine was abandoned after a mudslide killed all ten of its workers in 1914 and only the camp cat survived.
The tour can be taken by helicopter for $NZ835 per person, for $NZ600 and by boat for $NZ200.  Whichever way you do it, the experience of landing on New Zealand's most active volcano is unforgettable.